Reef Doser App For Iphone
About a month ago I read about this new App for the iPhone on reefbuilders, I purchased it for my iPhone, though at the time it was a little buggy and limited in it's capabilities. I recently upgraded to the latest version and was pleased to see a number of improvements on the previous version.
The first thing I noticed  is the addition of trace elements Iodine, Strontium, Boron and Silicate.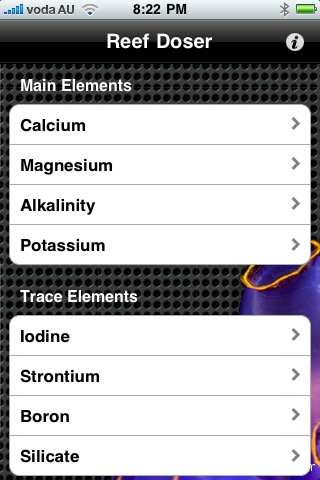 The main issue I had with the app which has not changed, is that it is not immediately obvious how to enter the volume you are calculating for. You access that screen by touching the little "i" on the main screen next to the title. This brings you to this screen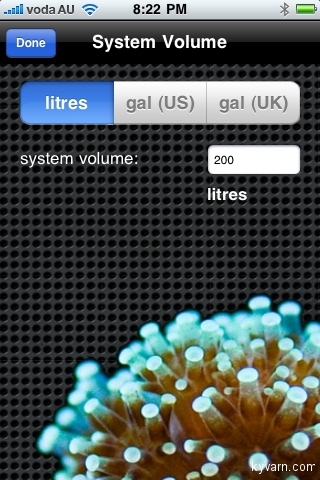 Once you have set the volume it is then a matter of selecting from the main screen which element you want to dose.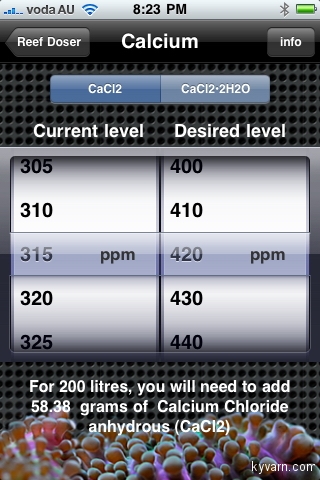 Using the thumb wheels you set the current and desired levels of the element you are dosing, the display at the bottom immediately updates with the amount you need to dose.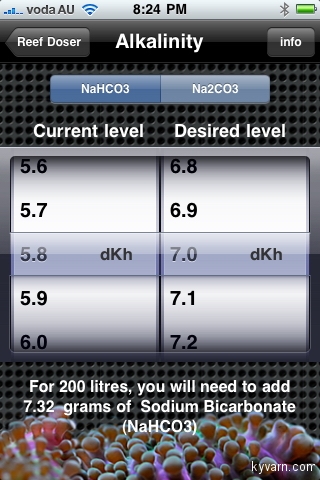 It would be nice if magnesium dosage could be calculated as a combination of Magnesium Chloride and Magnesium Sulphate as can be found at the Fauna Marin site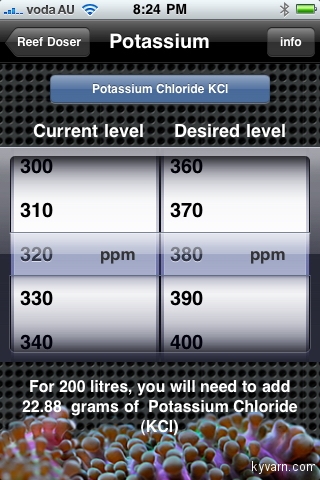 The app is available  from iTunes. Sure these calculators can be found for free on the web, but when I am working on my tanks, my computer is not handy. Where as I  keep my iPhone in my pocket.
No related posts.
Related posts brought to you by Yet Another Related Posts Plugin.
This entry was posted on Saturday, March 20th, 2010 at 9:49 pm and is filed under Aquaria. You can follow any responses to this entry through the RSS 2.0 feed. You can leave a response, or trackback from your own site.